Community creates 'pop up' outdoor space on little-used site in Hanover and Elm Grove
Green councillors joined residents in Hanover and Elm Grove to create and relax in a 'pop-up parklet', a temporary mini-outdoor space with chairs, cushions, a rug, plants and decorations. All were invited to contribute to an ideas board, which asked: 'what else could go here?' Residents and passers-by wrote and sketched suggestions as to what they'd like to see in the underused space, and ideas included a vegetable garden, an outdoor gymnasium and a performance space.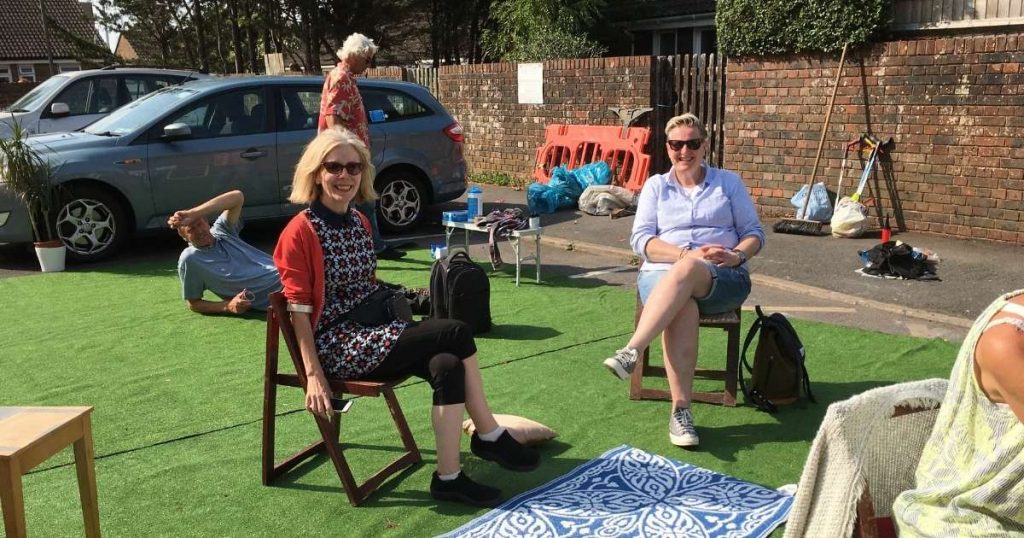 The parklet, at the back of Lewes St, was created by laying out a large piece of AstroTurf, borrowed from the nearby Hanover Community Association.
Councillor Elaine Hills, who organised the event and convenes the Hanover Liveable Neighbourhood group, said:
"It was a lovely way for people to get together to design and enjoy an outdoor space. The sun shining helped too! There's a limited amount of green and outdoor communal space in Hanover and Elm Grove, so we need to use our space more imaginatively rather than setting so much of it aside car storage.
"Parklets are an ideal way to increase the number of welcoming outdoor spaces at which neighbours can gather. And with people being less able to gather indoors due to Covid-19 restrictions, we need to look for more ways in which we can socialise safely. I helped carry out a survey of people in our ward doing lockdown and found a worryingly high level of respondents – 89% – thought Covid measures had affected their mental health in some way. Parklets could reduce the risk of social isolation and of developing mental health problems."
Cllr Hills praised the efforts of residents she is working with:
"The group has a lot of flair and tenacity, and we're planning further pop-up parklets in other locations in the ward, with more flowers and greenery – and hopefully even music too."
Councillor Hills says there are opportunities to look at how businesses and residents throughout the city can repurpose kerbside and underused outdoor space as parklets.
Green Councillors now want to explore how parklets can be included in the Hanover 'Liveable Neighbourhood' scheme, the first pilot 'low traffic neighbourhood' initiative designed to curb residential traffic to be given the go-ahead by the city council.