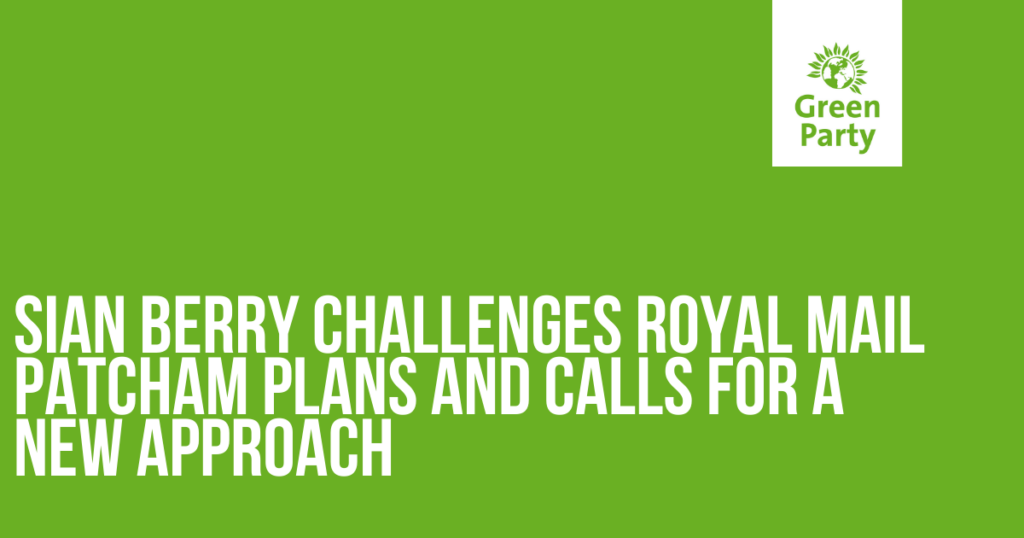 On Sunday 15th October, Sian Berry, the Green Party parliamentary candidate for Brighton Pavilion constituency, met with local residents in Patcham to hear ideas on how Patcham Court Farm could be regenerated to help boost the local economy and enhance the area.
Residents are working on proposals in collaboration with business and community groups that they hope will counter Royal Mail's plans and provide an alternative vision for the area. Sian Berry is a member of the London Assembly and has actively supported community planning and numerous Community Land Trusts, emphasising the importance of community-driven solutions in shaping the future of neighbourhoods. Sian is also an experienced road and environmental campaigner.
It is estimated that Royal Mail's plans which include an entrance on Vale Avenue, a residential street, will instigate 200,000 additional journeys through Patcham Village annually. This would include 28 articulated and HGV lorry movements every day, equating to over 10,000 a year, a marked increase from the Royal Mail lorry movements in the city currently.
Sian heard pitches from local residents that would use sustainable materials, create low-impact buildings and harness renewable energy supplies to transform Patcham Court Farm into a multi-functional space.
Sian said: "Local residents and experts have been absolutely clear that Royal Mail's plans for Patcham need to be scrapped. What Royal Mail are suggesting will be bad business for our city and will exacerbate existing problems now and into the future. We have an exciting chance to transform the Patcham Court Farm site into a valuable community space and environment that reflects our city's identity."
Royal Mail is trying to purchase Patcham Court Farm from Brighton and Hove City Council despite objections from National Highways, Southern Water, the Council's flooding and air quality team, as well as over 1000 residents. If the sale proceeds, it will give Royal Mail control of land that is located on a critical aquifer and near a pumping station which helps supply water to over 116,000 people.
Campaigners argue that the Royal Mail's plans pose a danger to drinking water, exacerbate known flood risks, change a residential area to an industrial one and significantly increase traffic and pollution. It will also threaten a conservation area, overshadow a heritage site at Church Hill and impose on views of the South Downs.
Rebecca Kimber, co-lead of the Patcham Against Royal Mail campaign said: "For people travelling into Brighton via the A23 and A27, Patcham Court Farm is effectively the front door to our city. We must stop Royal Mail's proposals that will cast a dark shadow over the entrance to Brighton and will add considerable traffic and accident risks to our already highly congested road network."
Campaigners question why the current sites in Brighton and Hove are not being invested in and modernised. They also highlight that the rail network could be used to transport post into central distribution sites before it is delivered via e-bikes, instead of causing congestion and pollution on road networks. Campaigners are urging the council and Royal Mail to justify why they are not considering using this ready-made site and more sustainable modes of transport.
National Highways said in their holding objection: "We will be concerned with proposals that have the potential to impact on the safe and efficient operation of the strategic road network, in this case, particularly within the vicinity of the A23 and A27 near Brighton."
For more information: www.patchamagainstroyalmail.uk