What is a local council budget?
Each year the city council sets out spending plans for vital Council-run public services. This involves looking at how much money the council is able to raise. And what services need to be provided and what investments would be of value to their community.
As the party running Brighton & Hove City Council (although we are still minority-run), we have set out our budget proposals. These are then put to all Councillors of all parties to vote. However, this year's budget is extremely challenging and a number of heart-breakingly difficult decisions need to be made.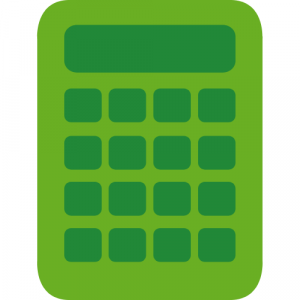 Where does the money come from?
Local councils receive funding primarily from government grants. Some money is also raised from council tax and business rates and other fees and charges. Government grants are usually allocated to specific services, and councils have to use the money as directed.
Whilst government funding is decreasing every year, the cost of care for the most vulnerable adults and elderly people who need care is increasing every year. Brighton and Hove has lost more than £110m annual Government funding since 2010. On top of this, we have had to make an additional £110m in savings. Unlike central government, local councils cannot borrow money and have to set a balanced budget, so there is a growing challenge to continue to balance the books. This means that councils are forced to increase council tax as well as other fees you pay for council services.
Developing these proposals has been incredibly challenging. With over £110m of annual funding stripped out of our budget by the Tory government over the last 10 years, and the backdrop of increasing demand - the situation is more difficult than ever before. This year's budget means we have to find over £20m in savings, on top of £200m the council has had to find since 2010.
Across the country services are closing. More than 100 libraries are closing each year due to tory cuts; and Sport England have warned that almost 2000 public swimming pools could be lost forever.  
Greens have been relentless in finding innovative and viable ways to protect the services that are the most important to Brighton and Hove residents, and to find solutions to the damning demands of the economic situation. Despite this backdrop, we have fought to save services from closure while still investing in our city.  This means that we have been able to save services such as:
However, we are unfortunately being pushed into making some really difficult savings. This meant that some council-run services like nurseries and toilets were proposed to be cut but we have found the resources to save them for at least one more year.
Greens are working as hard as we can to protect the most vulnerable and take the least-worst options of those available. But sadly the reality is, after 13 years of Tory Government there are little easy choices left.
The latest budget proposals mean that:
Vital public services will continue to be funded. For example, public toilets will not be cut; high-footfall locations will stay open and sites that were already closed are being reviewed for reopening, as we also do work to make toilets in cafes and other contexts accessible to the public;
Environmental efforts such as the Carbon Neutral Investment Programme and tree planting will be maintained;
Libraries, parks, and public spaces are staying open, with improvements to children's play areas;
From nurseries to adult care facilities to Disabled Facilities Grants to help maintain people in their homes, services for the most vulnerable have been protected;
Supported bus routes will continue, along with the Local Transport Plan to support sustainable transport and transport infrastructure;
Investment into the infrastructure and look of our city will continue to draw tourists and businesses to our shores;
Investment of £2.5 million in warmer homes for renters and homeowners facing the cost-of-living crisis;
Building new affordable housing, becoming the biggest provider of affordable rented housing in the city, and providing over 200 additional council homes in 23/24;
Council tax will be double charged on second homes when the council gets the right to do so;
Working to minimise the total amount of job losses. Councillors' allowances are being frozen, and both the Mayor's office and Council Senior Management are having to make significant savings.
While there are some points of relief, there will be many more points of hurt. Work will continue with trade unions to completely remove the need for job losses, but that these may yet be unavoidable. There are reductions in services, both now and in the future. The city sadly needs to prepare for tough days ahead.
#GIVEITBACK Brighton & Hove marks an unprecedented act of solidarity, as for the first time in the city, local unions and the employer – comprising both the Green and Labour Group of Councillors – have come together to speak in one voice to demand a reversal of cuts to local services and local government worker pay.
Please click the link below to find out more about the campaign and sign the petition.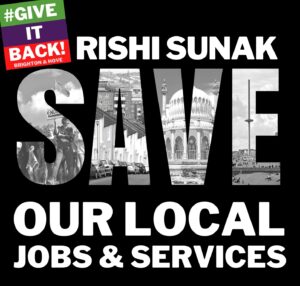 Frequently asked questions
You can read the proposals on the council website.
These proposals will change between now and the end of budget council at the end of February.